Her er datoen Fotball-England har ventet på
United mot City. Guardiola mot Mourinho. I dag ble terminlisten for Premier League klar.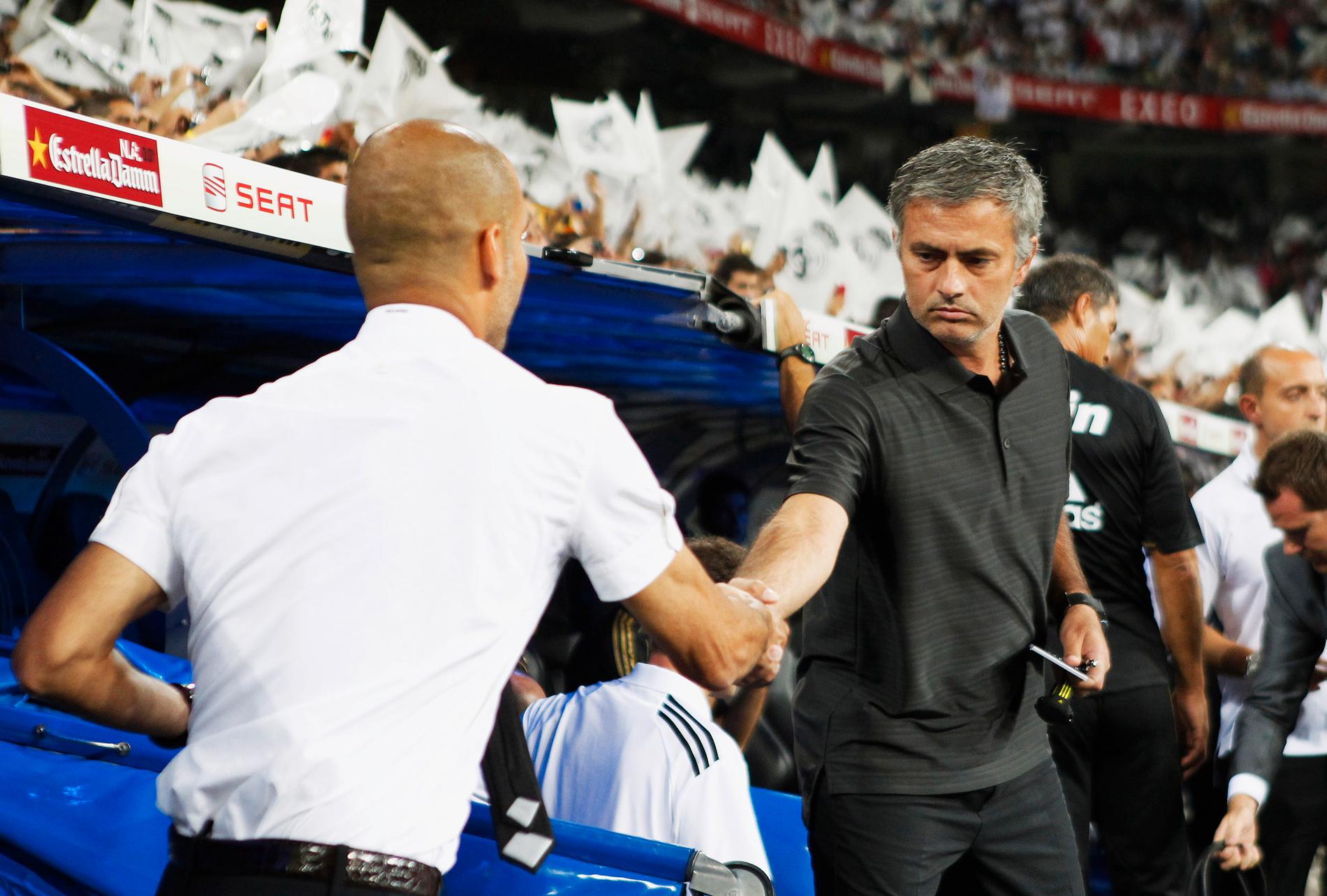 Denne artikkelen er over seks år gammel
Nå er det klart. To managerlegender skal anføre to av verdens største fotballklubber i en av de mest intense fotballbyene på kloden. Det skjer på Old Trafford 10. september.
I dag ble Premier Leagues terminliste offentliggjort. Mange sportsinteresserte er akkurat nå mest opptatt av fotball-EM og Rio-OL når ligaen starter midt i august. Men lidenskapen for den engelske fotballen blir ikke glemt. I dag er den dagene da norske fotballtilhengere med litt av hjertet i England begynner å bestille flyreiser over Nordsjøen.
Her er første serierunde som spilles helgen 13. august. Som vanlig er det slik at kampene blir spredt utover helgen alt etter hva som skal vises hvor som TV-kamper.
Bournemouth — Manchester United
Arsenal - Liverpool
Burnley - Swansea
Chelsea - West Ham
Crystal Palace - West Bromwich
Everton - Tottenham
Hull - Leicester
Manchester City - Sunderland
Middlesbrough - Stoke
Southampton - Watford
Pep Guardiola har tatt over Manchester City. José Mourinho har tatt over Manchester United. Bare det har fått fotballpraten til å være hetere enn noen gang i en by hvor det alltid har vært vist hete følelser rundt fotballen.
Det første derbyet mellom disse to finner altså sted allerede i den fjerde serierunden. Det er José Mourinho og Manchester United som er vertskap på Old Trafford helgen 10. september. Trolig blir den kampen spilt tidlig lørdag eller på søndag 11. september kjenner vi prioriteringene til de som bestemmer hva som skal gå på TV.
Enorme forventninger
Selv om det altså aldri så mye er bare en dag til England møter Wales i EM så snakkes det klubbfotball i Manchesters puber.
Forventningene til sesongen er enorm i de to klubbene etter det som var en skuffende sesong for begge lag. Nå skal de tilbake. Nå skal det satses. Nå skal nye pokaler inn i skapet. United kan komme til å handle inn Zlatan Ibrahimovic, og det vil overraske mange om ikke Guardiola kommer til å sikre seg en av EMs mer profilerte spillere før sesongen sparkes i gang.
Det er 59 dager til Premier League-avspark.
Her er terminlista videre frem til nyttår. Som nevnt er det slik at kampene blir spredt utover helgen alt etter hva som skal vises hvor som TV-kamper. Datoen her er for lørdagen i helgen kampene spilles :
20. august
Leicester - Arsenal
Liverpool - Burnley
Manchester United - Southampton
Stoke - Manchester City
Sunderland - Middlesbrough
Swansea City - Hull
Tottenham - Crystal Palace
Watford - Chelsea
West Bromwich - Everton
West Ham United - Bournemouth
27. august
Chelsea v Burnley
Crystal Palace v AFC Bournemouth
Everton - Stoke City
Hull City - Manchester United
Leicester City - Swansea City
Manchester City - West Ham
Southampton - Sunderland
Tottenham - Liverpool
Watford - Arsenal
West Bromwich - Middlesbrough
10. september
Bournemouth - West Bromwich
Arsenal - Southampton
Burnley - Hull
Liverpool - Leicester City
Manchester United - Manchester City
Middlesbrough - Crystal Palace
Stoke City - Tottenham
Sunderland - Everton
Swansea - Chelsea
West Ham - Watford
17. september
Chelsea - Liverpool
Crystal Palace - Stoke
Everton - Middlesbrough
Hull - Arsenall
Leicester - Burnley
Manchester City - Bournemouth
Southampton - Swansea
Tottenham - Sunderland
Watford - Manchester United
West Bromwich - West Ham
24. september
Bournemouth - Everton
Arsenal - Chelsea
Burnley - Watford
Liverpool - Hull
Manchester United - Leicester
Middlesbrough - Tottenham
Stoke - West Bromwich
Sunderland - Crystal Palace
Swansea - Manchester City
West Ham - Southampton
1. oktober
Burnley - Arsenal
Everton - Crystal Palace
Hull - Chelsea
Leicester - Southampton
Manchester United - Stoke
Sunderland - West Bromwich
Swansea - Liverpool
Tottenham - Manchester City
Watford - Bournemouth
West Ham - Middlesbrough
15. oktober
Bournemouth - Hull
Arsenal - Swansea City
Chelsea - Leicester City
Crystal Palace - West Ham
Liverpool - Manchester United
Manchester City - Everton
Middlesbrough - Watford
Southampton - Burnley
Stoke City - Sunderland
West Bromwich - Tottenham
22. oktober
Bournemouth - Tottenham
Arsenal - Middlesbrough
Burnley - Everton
Chelsea - Manchester United
Hull City - Stoke City
Leicester - Crystal Palace
Liverpool - West Bromwich
Manchester City - Southampton
Swansea - Watford
West Ham - Sunderland
29. oktober
Crystal Palace - Liverpool
Everton - West Ham
Manchester United - Burnley
Middlesbrough - Bournemouth
Southampton - Chelsea
Stoke City - Swansea
Sunderland - Arsenal
Tottenham - Leicester City
Watford - Hull City
West Bromwich - Manchester City
5. november
Bournemouth - Sunderland
Arsenal - Tottenham
Burnley - Crystal Palace
Chelsea - Everton
Hull City - Southampton
Leicester - West Bromwich
Liverpool - Watford
Manchester City - Middlesbrough
Swansea - Manchester United
West Ham - Stoke
19. november
Crystal Palace - Manchester City
Everton - Swansea
Manchester United - Arsenal
Middlesbrough - Chelsea
Southampton - Liverpool
Stoke - Bournemouth
Sunderland - Hull
Tottenham - West Ham
Watford v Leicester
West Bromwich - Burnley
26. november
Arsenal - Bournemouth
Burnley - Manchester City
Chelsea - Tottenham Hotspur
Hull City - West Bromwich
Leicester - Middlesbrough
Liverpool - Sunderland
Manchester United - West Ham
Southampton - Everton
Swansea City - Crystal Palace
Watford - Stoke
3. desember
Bournemouth - Liverpool
Crystal Palace - Southampton
Everton - Manchester United
Manchester City - Chelsea
Middlesbrough - Hull
Stoke - Burnley
Sunderland - Leicester
Tottenham - Swansea
West Bromwich - Watford
West Ham - Arsenal
10. desember
Arsenal - Stoke
Burnley - Bournemouth
Chelsea - West Bromwich
Hull - Crystal Palace
Leicester - Manchester City
Liverpool - West Ham
Manchester United - Tottenham
Southampton - Middlesbrough
Swansea - Sunderland
Watford - Everton
13. desember
Bournemouth - Leicester
Crystal Palace - Manchester United
Middlesbrough - Liverpool
Sunderland - Chelsea
West Bromwich - Swansea
West Ham - Burnley
14. desember
Everton - Arsenal
Manchester City - Watford
Stoke - Southampton
Tottenham - Hull City
17. desember
Bournemouth - Southampton
Crystal Palace - Chelsea
Everton - Liverpool
Manchester City - Arsenal
Middlesbrough - Swansea City
Stoke City - Leicester City
Sunderland - Watford
Tottenham - Burnley
West Bromwich - Manchester United
West Ham - Hull
26. desember (Boxing Day - 2. juledag)
Arsenal - West Bromwich
Burnley - Middlesbrough
Chelsea - Bournemouth
Hull - Manchester City
Leicester - Everton
Liverpool - Stoke
Manchester United - Sunderland
Southampton - Tottenham
Swansea City - West Ham United
Watford - Crystal Palace
31. desember (nyttårsaften)
Arsenal - Crystal Palace
Burnley - Sunderland
Chelsea - Stoke
Hull City - Everton
Leicester - West Ham
Liverpool - Manchester City
Manchester United - Middlesbrough
Southampton - West Bromwich
Swansea City - Bournemouth
Watford - Tottenham
Everton fikk ny sjef tirsdag: